Product Description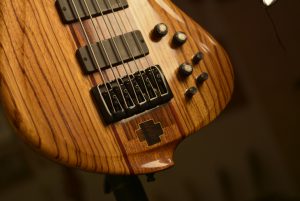 The very highest that WG brings. In quality, craftmenship and also, a vision.
Uniquely made TULIPbass. A piece of art.
Neck thru, 33″ scale 26 frets
Ziricote neck (and goes thru body indeed) with a macassar ebony board, with fllame ash on the back of the headstock and claro walnut in front.
Chambered ash body with zebrano top and certain details like a tapered flame ebony cross, tigerwood and flame ash back plate, flame ash tone wood and padouk lines aside the neck..
It has a custom made SBS humbuckers with Aguilar OBP3 wired with passive tone pot (which is very usefull used in conjunction with actual treble pot).
Hipshot UltraLite tuners.
Handcurved brass nut.
Custom WG knobs.
Bass is on the heavy side weight-wise but every gram in gained back in tone, which is at the same level as it looks. And as you may not like it visually you may fall for tone alone, piano like sustain, punchy, yet naturally compressed and even, with an inspiration to play it on top of all.