TULIPbass is a step forward in a single cut construction, for us. A headless version of TULIPbass named babyTULIP is very popular because of its playability, portability (fits in a guitar gig bag) and TONE. As it is short scale, non one turned not to be beautiful sounding instrument.
Custom design for Mr. Jovan Dorkin.   Its a hybrid tuning 9 strings:
Special babyTULIP made for Mr. Bozo Vreco: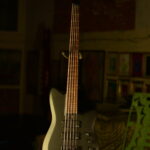 Custom OUD in the style of Bozo:
babyTULIP: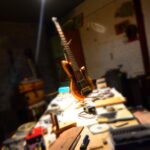 TULIP7: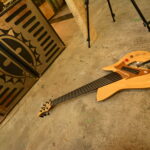 babyTULIP Carbon6: fully carbon coated, multiple outputs (pickups, preamp-DI, MIDI):
Made for a special kind of touring. It is disassambable in a minute and put into the official bag of a certain army:
Really beatufull sounding bass.Has it all:
Wood Guerilla  Albatros    principal creative vehicle of Mr. Lazar Ostojic:
Below:   RoyalTULIP bass   Royal is a mark of a highest possible quality, workmanship and design.
Below is a ClownTULIP  bass    6 strings wood extravanza
One gorgeos and elegant zebrano top fretless babyTULIP:
Bass inspired by USP bass of Uros Spasojevic.